What is the 2030 Agenda?
The new international agenda to transform the world into a better and more sustainable place
On September 25th, 2015, the United Nations adopted the 2030 Agenda for Sustainable Development, a new international agenda to transform the world into a more sustainable and prosperous place. This agenda establishes 17 Sustainable Development Goals (SDGs) that focus on specific areas in which action must be taken by 2030. Ending poverty and boosting economic growth, improving the population's health and education, protecting the environment and fighting climate change, achieving equality between men and women, fighting corruption and promoting innovation are just some of the main challenges. The 17 objectives are also made up of 169 goals that delve more deeply into the aims to be achieved.
The United Nations strives to ensure that these 17 SDGs are fulfilled in every country across the world. To do this, all members of society must contribute: governments, companies, civil society, and the academic and scientific world have been called to the action. The SDGs therefore constitute the frame of reference at the national and international level to guide the actions of companies around sustainable development.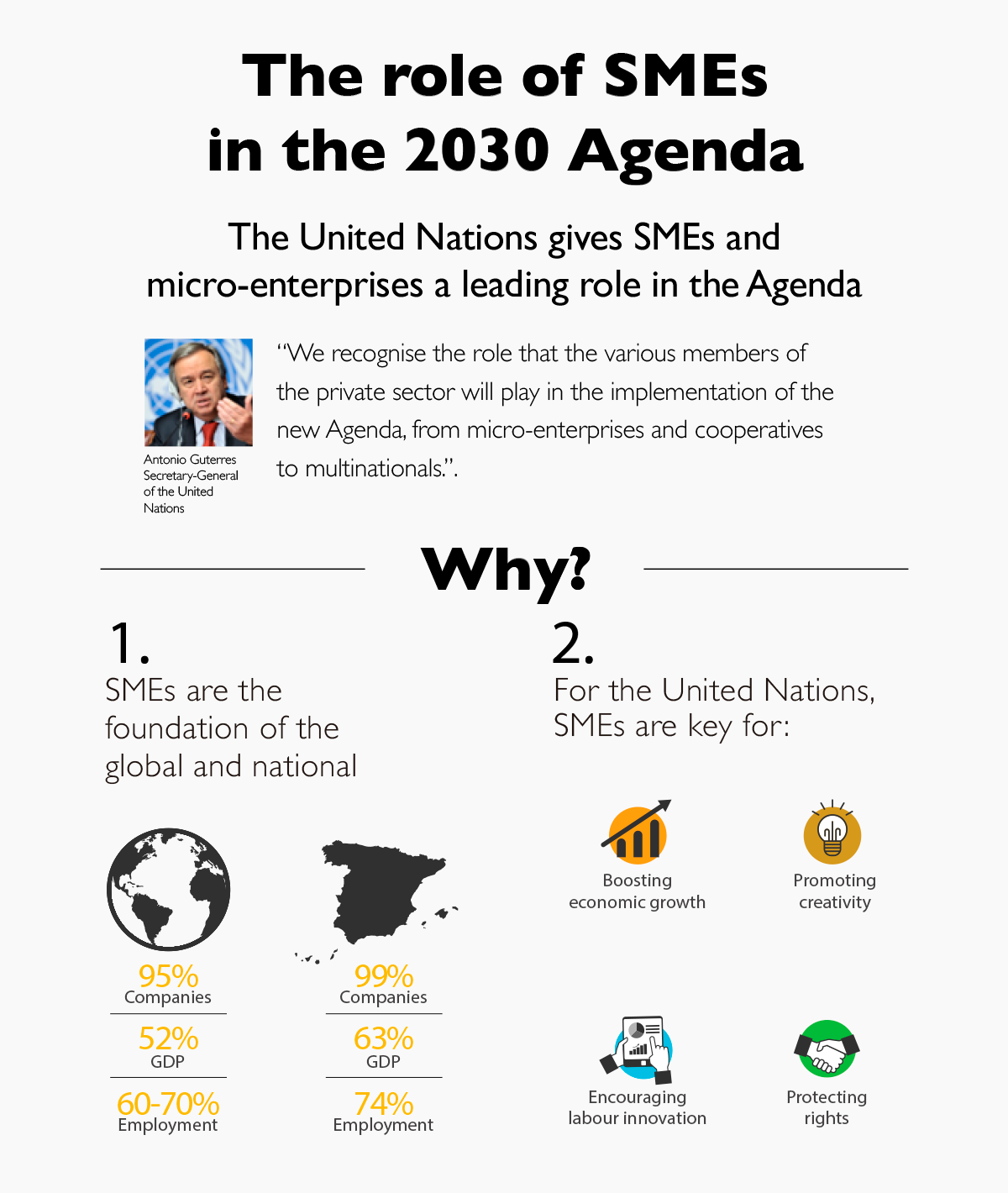 The United Nations recognises the leading and essential role that all companies, particularly micro-, small- and medium-sized enterprises, must play in the 2030 agenda. Each SME plays a fundamental role in meeting global challenges in 2030: they constitute 99.98% of businesses in Spain, represent 63% of GDP and create 74% of the country's employment. Without the contribution of SMEs, meeting the 2030 agenda seems like an impossible task.
Now is the time for your company to take action!

Select the objectives to learn more: